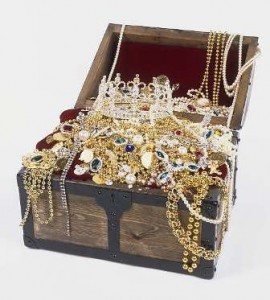 Dressing for work in the wee hours of the morning might be easier if it were not for accessory anxiety.
One day it just happens! You realize you own more accessories than is manageable!
Accessories include:
Belts: Styles range from  wide, extra wide, skinny, hip, and waist. Sizes range from feelin' skinny to  feelin' chubby.
Scarves: Wrinkled, eternity, fringed, silk, long, extra long, and winter,
Necklaces: Oddly enough—or perhaps predictably—the perfect ( goes with everything) length remains allusive. Necklace styles: Refined, gold, silver, chunky, ethnic, elegant, casual, and art-festival find.
Rings: Cheap, funky, semi-precious, and precious
Bracelets: Cheap, funky, semi-precious, and precious
Watches: Yeah! I wear the same one everyday.
All this variety leaves me scrambling in the morning. Or dithering before going out. Or making last minutes selections before an event.
"What are you doing?" Hubby asks from the living room while checking his watch.
"I can't find the right necklace for this outfit."
"Just put on anything!"
The Horror!
Men just understand! Women have many clothing "looks" and different necklines with which to contend.
Hubby has 3 style options.
1. career
2. casual
3. work-out
Except for the work-out gear, his wardrobe is accessory-free! ( I'm fairly certain a water bottle and an energy chew are NOT accessories.)
I try to explain the problem but Hubby's eyes just glaze over—like mine when he talks sports.
Different tops require different "looks."  Jeans with a designer low-cut t-shirt require a different necklace than a peasant skirt and blouse. Duh!
A necklace hanging under my top looks dumb. If it's too short, it leaves a big empty skin space between shirt and neck.
Accessories must coordinate. Must complement the outfit! Should add visual interest—I think it's on page 58 of the Vogue Bible.
"Just wear the necklace I bought you for your birthday," Hubby says.
"That's a modern piece, these pants have a funky vibe." 
"You make your life too complicated!" Hubby says as I hold different necklaces up to the outfit. "Just wear the same one all the time!"
"Excellent idea!" I respond. "I will cancel the 499  ESPN channels we pay extra for every month. One sports channel should be enough!"
One…two…three seconds pass.
"I think the real problem, honey, is that you don't have enough accessories!"
Note: Photo is NOT representative of my accessory collection–I'm still looking for a suitable tiara.
Related Posts:Spring Cleaning; Spring Cleaning #2; Closet Craziness; Surviving My Purse; Ode to Stilettos; Denim Distress; Perfect School Bag; Drawer of Misfit Cosmetics; Wardrobe Malfunctions
Click  Amazon link for novels.