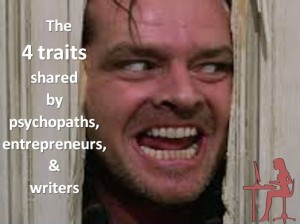 While researching personality traits for a main character I came across several articles about the similarities between psychopaths and entrepreneurs. Frightening, yes? Until I realized ambitious, goal-driven (or more accurately, obsessive) writers tend to fit the psychopath/entrepreneur profile!
Writing a novel, finishing a novel, rewriting your novel, revising the novel again and again, querying that novel, bouncing back from rejection…these tasks require a certain single-minded determination. Although there are days we feel more like psychopaths than entrepreneurs it behooves us to recognize that particular personality traits often determine our failures and successes.
Below is a 100% unscientific test that may determine if you share the same personality traits as a psychopath or entrepreneur.