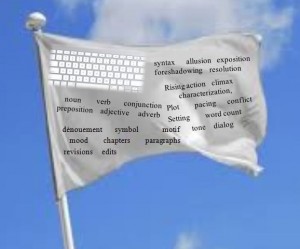 O say can you read
by the computer's LCD
what so proudly we wrote
during our last creative gleaming,
whose broad themes and trite tropes
shows the protag's deep need,
o'ver the keyboard we typed,
with much symbolic meaning.
And the misspellings red glare,
the adverbs everywhere,
gave proof to the plot
that our rising action was still there.
O say should that word-spangled chapter be saved
o'er our novel we crave
and the hope of the writing brave.
Related links: Readin' & Writin'; Rock Your Writing