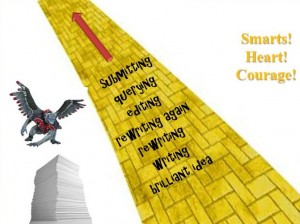 A Trip to Writing Oz!
Many writers approach novel writing like Dorothy. They are naïve, hopeful, idealistic, and enthusiastic, which are all admirable traits.
But then the tornado of advice, information, do's & dont's, and publishing data sweeps you up into its maelstrom.
You stare helplessly as frightening visions of platform building, branding, blogging, social media engagement, website ranking, editing, and querying zip past. It's enough to make anyone jump into bed and pull the blankets over their head!
If you're fortunate, Glinda the Good Mentor will show you the writing-editing-querying path and provide the essential footwear for the journey—namely a sparkly belief in the magic and promise of attaining your dream while keeping yourself grounded with the truth of publishing.
Alas! The realities—aka the Wicked Witch of Writing—of finishing your novel are sure to threaten your self-confidence from time to time. But have faith! You can reach the wonderful Land of Writing Oz!
Although the journey requires facing your inner Scarecrow, Tin man, and Cowardly Lion, all a writer needs is some brains (and good ol' fashioned common sense), the heart to believe in yourself, and the courage to brave the enchanted forest of pitching and querying.
Beware of the flying monkeys like doubt, naysayers, and sabotaging behaviors.
Of course, you may discover that the Wizard of Writing is, in fact, an illusion. There is no one secret, no magic formula, no one genre nor method to achieve your writing dream.
The answer is in you… in the knowledge gained from the writing process, the value of supportive friends, the actions and attitudes of perseverance, and finding the inner strength to face challenges with grace and humility.
Then and only then will you be able to say "there's no place like home" when sitting in front of your work in progress!
Related Links: Readin' & Writin'; Symbols & more Symbols; Rock Your Writing