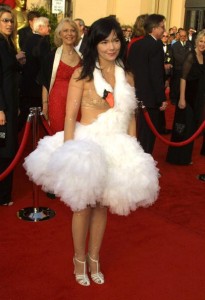 Is it me? Is it a girl thingThere was a time when I  pulled on a pair of pants, threw a top over my head and BAM! I was fashionable. No longer! The current fashion trends require some serious pre-planning to pull-off.
Here's a few clothing choices with which I have difficulty:
Wispy see-thru blouses that are indecent and require a tank top
Loosely knit sweaters that have more holes than yarn! (thus, a sweater that is not warm–oh, the irony)
Crop tops requiring a lengthening layer underneath or fabulous abs ( have the layer, not the abs)
Tunic tops that only look good with skinny pants
Low rider jeans that make sitting without butt cleavage a challenge
Tops cut down to there! ( layering again)
Clothes are just too ambiguous these days!
There are:
skinny jeans as tight as  leggings

leggings that resemble jeans

pants that look like a skirt

dresses that are as short as tunics

skirts which look suspiciously like a tube top

skirts that double as either a skirt or dress

yoga pants that might as well be trousers
While shopping the other day I held up a filmy $300.00 piece of I-don't-know-what and asked my daughter, "What's this?"
"IDK," ( she speaks in text )"but it's marked off 60%."
"It's either a skirt or a top," I say with great confidence.
"No, it's a dress!" She shows me the little bralette insert at the top.
Well, I'l be damned. In addition to the price, manufacturers should include the type of clothing and how to wear it–you know, skirt, top, dress, pants. Wear with buttons in back—something like that.
I almost bought a sheer net A-line garment to wear over a dress or pants or pantsuit or skirt or…you get the picture.  Don't know what I was thinking! It was just so pretty—and impractical…and another layer!
Hubby wonders why I stamp my feet in the closet.
"Look at all your clothes!" He sweeps his a hand across the row of filmly, diaphanous, knitted tops and wide, skinny, straight, pants/skirts.
"Yeah! But nothing goes! Achieving the bohemian-chic or hipster effortless look is too time-consuming!"
Click  Amazon link for novels.