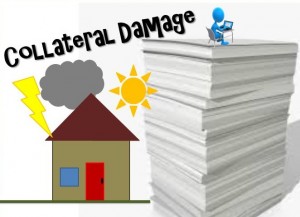 One of the many perils of writing is dealing with the fallout from months of obsessive…um…enthusiastic writing, rewriting, and tweaking. There's lots of fabulous information about what writers should do, yet not too much about what we don't!
Here's a What-Doesn't-Get-Done list. Does it look like yours?
Any project at all—be it as easy as sewing on a button to shopping for more bookshelves.
Clean the fridge… or any time-consuming cleaning and organizing task!
Hang with friends. (True friends already know you're a bit obsessive…um enthusiastic, that, and they really want to read your next book! )
Organize/file bills and receipts ( Thank goodness for auto pay.)
Shop for shoes. ( Comfort can't be assessed on a website. )
Bake…except if it's one of my children's birthdays and they asked for a cake.
Cook any meal requiring more than an hour of prep and cook time—if there's food in the house hubby should consider himself lucky.
Regular work outs decrease as the light-at-the-end-of-the-WIP-tunnel increases—   my fingers, however, are in excellent shape!
Impromptu visits to fun places. ( Usually a daughter drags me by the hair to the beach. "An afternoon away from the keyboard won't hurt mom, I promise.")
Stare lovingly into hubby's eyes—oh, wait I don't do that, and anyway it would probably mess up his golf stroke.
Teach the pooch new tricks. She'll have to be content with mooching treats with the old ones.
Attempt any website overhaul—I've been itching to update my layout for months.
So what does one do in that brief bit of time between old project and new project? All of the above of course! And they will all be done with gleeful-happy-exuberant joy because, by golly, another novel is complete.
Maybe one day I'll learn to manage my time better…nah…where's the fun in that??
Related links: Rock Your Writing; Readin' & Writin'