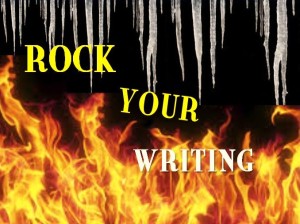 These powerful elements are fraught with symbolic significance, their meanings stemming from a myriad of religious beliefs, legends, and myths.
Fire and water represent a world of power,destruction, ambiguity, duality, and divinity.
Whether earthy or otherworldly, these forces of nature are feared and loved with equal fervor. No wonder authors love playing with their multiple  meanings in poetry and literature.So how does an author convey their intent with two symbolic heav -hitters?
Authors will use additional words in the paragraph/ sentence to reveal: 1)  particular symbolic meanings; 2)  character; 3)  ambiguity of a theme's dichotomy; 4) irony;  5) all of the aforementioned; and/or 6) a plot device.  Fun, yes?
(See Word Magic for ways Ray Bradbury uses fire imagery.)
Fire is:
A few fire gods & creatures:
Water is:
A few water gods & creatures:
Think of all the FUN an author can have with fire and water! The names of the gods and creatures alone are fodder for countless symbolic names—first or last!
Related Links:  Rock Your Writing; Click  Amazon for novels.