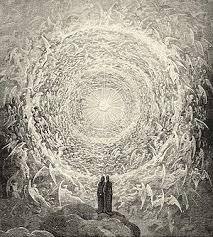 Two days ago, we made a really quick trip to fire and brimstone Hades.
Today, our jaunt is ever so much more pleasant. Destination: Heaven. Aka Arcadia, Elysium, Utopia, Zion, Pearly gates, Paradise, Canaan, happy hunting ground,and a few other divine euphemisms.
Note: Heaven is a vast subject–and my blog references mostly judeo-christian beliefs.
For expediency's sake, we will zoom past Limbo–where the souls of the righteous missed the Jesus boat—-fly over the Island of the Dead–where legends & demi-gods enjoy their Atlantis vacation—glide past Purgatory–where the righteous are purified before entering Heaven—and crash through those Heavenly Gates!
The word paradise comes from the Old Persian pairidaeza, meaning encosure, or park.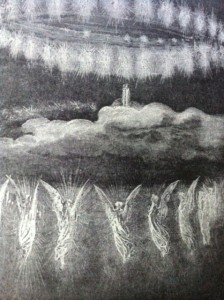 You must pass Peter before you can be enfolded into the Bosom of Abraham.
The gates are made of pearls and the walls made from precious stones. The foundations are made of jasper, sapphire, chalcedony, emerald, topaz, amethyst and a bunch of other stones I never heard of.
The city is made of gold.
Main Attractions: Tree of Life, Fountain of Grace, Mystic Lamb
There's a few rivers ( some say 4) and about a gazillion angels.
Empyrean is the highest level of Heaven. ( It means flames in Greek). It's infinite,
motionless, and blazes with God's light.
Jewish mysticism/Kabbalah states that Heaven has 7 levels.
From lowest to highest, they are:
1. Shamayin: Closest to earth. Governed by Archangel Gabriel.
2. Raqia: A realm governed by Raphael and location where Moses met the angelic host.
3. Shehagim: Home to the Garden of Eden and the Tree of Life. Manna comes from this realm, and, oh, yeah, Hell is just to the north.
4. Ma'on: Home of heavenly Jerusalem and ruled by Archangel Michael.
5. Makhon: Ruled by Samael–a dark servant of God.
6. Zebul: Ruled by Sachiel.
7. Araboth: The most holy of the 7 heavens and governed by Cassiel. Houses the Throne of God. Residence of:
Seraphim: Highest order of angel. They repeat "holy, holy, holy" foreever and all eternity.  They have 4 faces,  6 wings and have been likened to fiery serpents ( Numbers 21:6).
Cherubum: Huge winged creatures with 4 faces and 4 wings. Best known for guarding the Tree of Life with a flaming sword.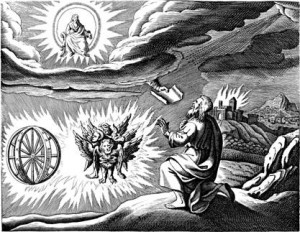 Hayyoth: Heavenly beasts and class of Merkabah angles with 4 wings, 4 faces, 2,000 thrones.
God dwells in the highest level.  location,location, location, right?  Under the throne resides all the unborn human souls.
Well,  it's time to return to Earth. Hope you enjoyed your trip to Paradise.
Click  Amazon link for novels.