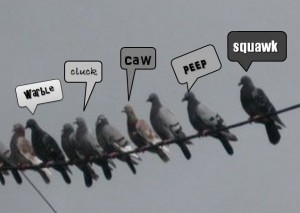 This author-teacher-mom has learned lots of gooseful info since leaving the nest with the first tweet almost 3 years ago.
Between reading blogs on tweetiquette, following the do's and don'ts, and using some good ol' common sense learning eggsactly how to fly on Twitter is easy.
I'm no expert—far from it—but it didn't take long to figure out the basic content and tweeting styles.

In the spirit of bird lingo,and in no particular order, here's my list of tweet types :
trill: A quick succession of tweets within a minute. Many trills land you in the dreaded Twitter Jail.
caw:  Similar to calling someone out, only you @ someone famous ( or twitter famous) just to get noticed
cackle:  @-ing a long list of people
quack: Tweeting lies
warble: The like-my-page, buy-my-book, read-my-blog  DM
cluck:  Expressing disapproval about some event that pisses you off
chirp: A cheerful quick tweet of less than 140 spaces
cock a doodle doo: Pornographic tweet
chirrup: Like a hiccup… you sent tweet unfinished or with a typo ( not your fault of course, it's  auto correct )
squawk: A continuous barrage of self-promoting
peep: Impact a newbie makes when tweeting/RTing to all 4 of their followers
flock: Your favorite tweeps
gaggle: Plethora of  abbreviated words make tweet incomprehensible
pecker: (noun) Follower tweeting explicit X-rated photos ( see cock a doodle doo )
gobble: Purchasing fake followers
hoot: Throwing a question out to Twitter to see who responds.
My apologies if there's already a Twitter-approved word for one of these. Is a tweet type missing? Share your name for it!
See you in Twitterverse!
Related Links: Job Skills vs Personality Traits; On-line Job Applications