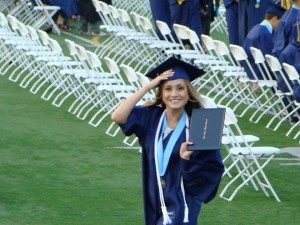 This general malaise is a pandemic condition that begins in November of a student's senior year in high school. Symptoms increase as the school year progresses.
Symptoms include: Occasional bursts of euphoria, lackadaisical attitudes, and frequent absences.
The following is a list of additional maladies associated with senioritis:
Acceptancepanic: Anxiety about university acceptance. Frequent checking of email is common.
DitchDayitis: Entire senior student body decides by consensus to be truant for no reason whatsoever. In California, these days coincide with warm and sunny beach weather.
Lastopathy: As in "this is the last pep rally/play/concert/test." Photos for instagram, snapchat, and Facebook posting is rampant.
Promectasia:  Enormous dilation of significance regarding any and all individuals/clothes/events/actions related to prom.
Promrrhoea: All speech is limited to upcoming prom activities.
Commonsensectomy: A student's voluntary self-removal of an iota of the common sense needed to finish their senior year without detentions/suspensions/referrals and other disciplinary actions
Gradelepsy:  An attack/seizure of realization that their grade is lower than anticipated. These attacks always occur exactly one week prior to the end of the semester. Tears, pleading, begging, whining and parent phone calls are byproducts.
Real-lifephobia: Fear of leaving overly-accommodating and compassionate school environment to enter cruel realities of real world.
Polymajorism: Belief that student can explore many majors in college until they find one they like and still graduate in 4 years.
Pseudoassignmentism: Asking teachers to create assignments for the sheer purpose of raising your grade. ( see gradelepsy)
Cashoma: Belief that every single relative will send cash upon receiving your graduation announcement.
Nomoneygnosis: Cruel realization that parents do not possess funds needed to send you to college across state lines, to study abroad, or to pay for dorm housing.
Related Posts: Job Skills vs Personality Traits; On-line Job Applications; School Answering Message