Writing is fraught with angst and panic and euphoria and creative outbursts and emotional meltdowns. Writers experience the highs and the lows–which is a good thing because it helps us recreate the feelings in our characters. However….
those mood swings might indicate the need for a specialized writing therapist—you know, one who understands the joys and horrors of our passion.
One of the most common writing struggles is not only learning to cope with rejection but bouncing back with even more dedication and motivation.
Below is a list of common writing issues and psychoses.
Synonymania: Listing 10 different synonyms for a word & deliberating over which is best for that sentence. The problem only becomes critical if the writer corrects himself while conversing with ( real ) people.
Ubervocabulary: A tendency to use words like  vanquish in everyday conversations.
Realityapnea: Zoning out in a middle of a conversation when a a brilliant idea for a scene/novel/character/sentence/climax/beginning/ending/denouement/ pops into your brain.
Rewriteaplasty: Writing a sentence 20 different ways and not being happy with any of them!
Literary Craving: Craving whatever food/beverage is in your novel.
OCP: Obsessive-compulsive plot discussions with significant other.
Excessive nostril flaring when someone refers to your writing as a "hobby."
Adverbaphobia: Fear of adverbs. We've all heard the warning. Adverbs are clearly, certainly, positively the kiss of death!
Conferencosis: Confusion brought on by numerous conflicting statements made by those in the publishing industry. See What Kind of Conference Attendee are you for more information.
Grammaropia: Inability to see your grammar errors.
Excessive Verbation : Process of adding-using-including-writing-editing  verbs.
Prepositionectomy: Obsessive removal of prepositional phrases and/or replacing with the perfect preposition.
Number Anxiety: Concern that your follower/friends on social media are not exponentially increasing.
Spamsitude: The inability to refrain from spamming friends/followers on social media.
Who would you choose as YOUR writing therapist?
"Snap out of it." Cher's character from Moonstruck.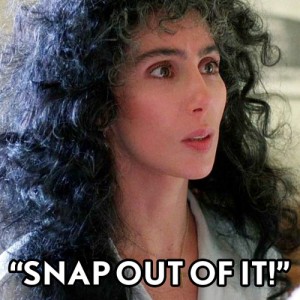 Drill sergeant from Geico commercial
Billy Crystal's character in Analyze This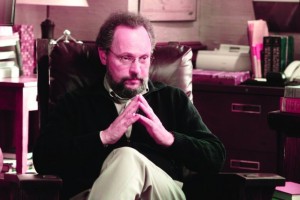 "Frankly, my dear, I don't give a damn." Rhett Butler in Gone With The Wind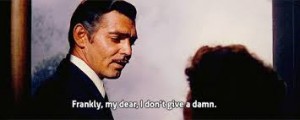 Of course, if therapy doesn't work the writer can always find relief for their woes by getting  a prescription for writers. 
What's YOUR writing psychosis?
Related Links: Readin' & Writin'