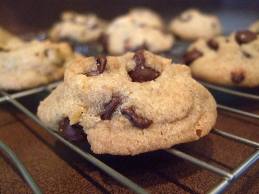 Writing is a lot like making chocolate chip cookies. OK, I'll admit this blog comes after fighting off a craving—and losing—to the allure of the confection, but the similarities are sweet!
2 1/4 cups all-purpose flour

is like the plot of a novel, the basic element in any delicious tale.

1 teaspoon baking soda

is a leavening agent of skill and craft waiting to expand your draft batter when it's time to turn on the revision heat.

1 teaspoon salt

is akin to the salt of your brow as you labor over your creation.

1 cup (2 sticks) butter, softened.

Like real butter, well-chosen words make a better novel and discriminating readers will taste the difference when substitutes are used.

3/4 cup packed brown sugar

. Without sweet conflict a writer has no story. And like the iconic chocolate chip cookies several kinds add depth and complexity to its sweetness, be it the…

3/4 cup packed white refined sugar

of man vs man or the psychologically tormented  man vs self.

1 teaspoon vanilla extract

 Great novels have an extra uumph to them—infused with the undetectable something special. Imitation zing doesn't work—dig deep for the real thing.

2 large eggs

. Walkin' on thematic eggshells does a writer no good. They must crack their creativity wide open to scramble a reader's prosaic ideals while incorporating them into the story.

2 cups chocolate chips

. With just the right amount of narrative hooks, the story will melt in a reader's mouth, leaving them eager for another bite and turn another page.


1 cup chopped nuts and other optional mix-ins

are odd characters that add flavor and zing your novel.
PREHEAT oven to 375° F. Revisions are in your future—don't become attached to any single sentence.
COMBINE flour, baking soda and salt in small bowl. Beat butter, granulated sugar, brown sugar and vanilla extract in large mixer bowl until creamy. Add eggs, one at a time, beating well after each addition. Gradually beat in flour mixture. Stir in morsels and nuts. Drop by rounded tablespoon onto ungreased baking sheets.
BAKE for 9 to 11 minutes or until golden brown. Cool on baking sheets for 2 minutes; remove to wire racks to cool completely.
Writer's Baking Instructions:
COMBINE plot, craft, and sweat over computer keyboard. Beat words, conflict,  more conflict, and that something special in your brain until ideas are combined. Add themes, one at a time, rewriting & fine tuning well after each addition. Gradually beat in plot mixture. Stir in narrative hooks and optional symbols, motifs, allusions. Drop by rounded sentences and paragraphs onto pages and chapters.
Write & rewrite & edit until story is done—whether you like it moist and chewy, burnt, hard, or slightly raw. In writing time this can take anywhere from 2 months to 10 years. Cool completed novel for several weeks before moving manuscript to the query-agent racks.
Have fun cookin' up your novel!
Click  Amazon link for novels.