Psychologist Abraham Maslow is best known for his theory about human motivation, aka the hierarchy of needs. He believed that basic needs must be fulfilled before an individual can progress to higher levels. For example, an individual cannot realize their self-potential ( the highest level ) if the basic necessities of food and shelter are not met.
Sounds reasonable, right?
Anyone who's ever taken a Psychology 101 class is familiar with the conceptualized pyramid denoting the levels.
Well, it struck me that writers have a hierarchy of needs of their own that must be satisfied  before they can hope to achieve creative greatness.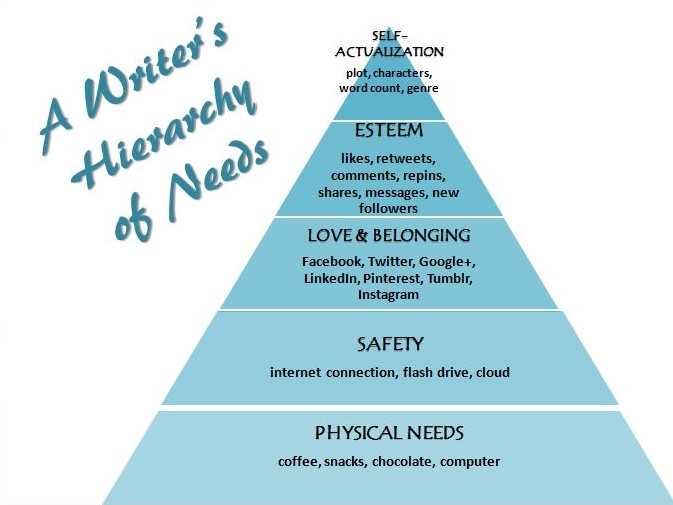 Physical needs: Writers don't need much–our minds are full enough. However, coffee to awaken the Muse, snacks for feeding the Muse, a computer ( or notebook and pen in a crunch ) and the happy hormones found in chocolate are writing staples.
Safety: Internet connections help us research and connect with friends. With a flash drive or Cloud we rest easy knowing our masterpiece is safe from virtual viruses. Any writer losing their work or revisions to a computer crash remembers the agony of their genius vanishing like dust in the wind. ( cue "Dust in the Wind" by Kansas )
Love & Belonging: We might be solitary folk, happy retreating into our creative cave, yet we need the fellowship of FaceBook , Instagram, Google +, LinkedIn, and Twitter. We seek validation not only from other writers but from reviewers, readers, and  friends. There is safety in numbers, in belonging to groups where the written word reigns supreme and reading is revered!
Esteem: We are fragile sorts, our egos crushed daily by plot flaws, meager word count, and scenes refusing to flow. So thus we turn away from the story, casting our attentions to the Likes, Tweets, ReTweets, and hits on our social media. Sadly, they validate us, at least for the moment. And when our confidence is lifted by enough Likes and RT's we venture back into our novel.
Self-Actualization: Having attained our needs we are now eager to plunge into the story. We conjure the Muses and force them to do our bidding. Words flow from our brain, pass the heart, and course through our fingertips. Reality vanishes and we are happy, our Zen restored.
 So should you experience the horrors of writer's block, fear not!
It's not you!
Your Pyramid of Writer's Needs is not being met! 
Related Links: Readin' & Writin' & Rx for Writer's Block