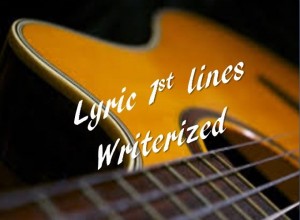 Catchy Song lyrics have a way of lodging in your brain. Dum-dum-dum- doo-dee-do….
Everyone knows the "Alphabet song" and "Twinkle, Twinkle Little Star" are the the same melody. And so is "Mary had a Little Lamb" and "London Bridge."  So in the spirit of Weird Al Yankovic I've writer-ized opening lines to a few famous songs.
Note: Changes are bolded.
Well, it was just seventeen pages—if you know what I mean
The Beatles/ I Saw Her Standing There
I'm on the highway to editing  hell.
Why do adverbs suddenly appear every time an agent is near?
The Carpenters/ Close to You
Well, it's one for the money, two for the read, three to get KDP, now go, Amazon, go!"
Carl Perkins / Blue Suede Shoes
There must be some kind of way out of here, said the writer to the plot problem.
Jimi Hendrix/ All Along the Watchtower
Hello, typos, my old friend
Simon and Garfunkel/ The Sound of Silence
You were working as a writer in a coffee shop, when I met you
Human League/ Don't You Want Me
And you may find yourself living in a fictional world / And you may find yourself in another part of the world / And you may find yourself behind a laptop computer
.
Talking Heads/ Once in a Lifetime
Guess what just got back today / Those wild-eyed queries I emailed away

Thin Lizzy / The Boys are back in Town
I get up, and social media management gets me down / You got it tough / I've seen the toughest tweeters around.
Just a small town writer, livin' in a lonely world / She took the FaceBook train goin' anywhere
.
Journey/ Don't Stop Believin'
She's a very kinky writer, the kind you don't recommend  to mother.

Hello, is there any agent out there? Just email if you can hear me
.
Pink Floyd/ Comfortably Numb
Ground Control to Major plot flaw
The devil went down to a beta reader; he was lookin' for a soul to steal.
Charlie Daniels Band/ The Devil Went Down to Georgia
A long, long time ago…
I can still remember
How that manuscript used to make me smile.
Welcome back, my friends
To the edits that never end
We're so glad you could attend
Turn the page, turn the page. 
Emerson, Lake, & Palmer/ Karn Evil 9 – 1st Impression – Part 2
I like big sales and I cannot lie.
Sir Mix-A-Lot/ Baby Got Back
Please allow me to introduce myself
I'm a
character of wealth and taste
I've been around for a long, long year
Stole the writer's soul and faith
Rolling Stones/ Sympathy for the Devil
After writing this post, I know exactly what the next few blog topics will be. Stay tuned…
What opening-lines can you writer-ize?
Related links: Readin' & Writin'