I know! I know! Beets… But it's time to re-think  how delicious this veggie can be if served right!
This tasty salad recipe comes from my future daughter in-law. She always has the most wonderful  recipes for vegetables–no doubt because her family owns
Weiser Family Farms. They are organic farmers and their

certified 

organic

specialty produce is found on the menus of  some of the best restaurants in Los Angeles.
Lucky for us, their certified organic produce is also  available at 18 different farmers markets in SoCal. Check their website for farmer market times and locations and also for lots of yummy healthy organic recipes.
I wasn't a fan of beets until just a few years ago. This root vegetable is a good source of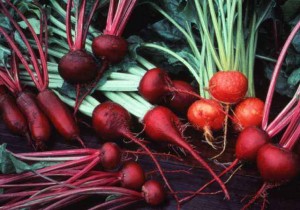 glycine betaine ( good for your blood), folates, vitamin A, carotenoids, flavonoids, anti-oxidants, as well as a host of B-complex vitamins and  minerals. That's one healthy vegetable!
Salad Ingredients
4-5 small beets ( golden, candy-stripped, or regular)

1 bag of baby arugula

blue cheese

optional: candied pecans or walnuts

olive oil

salt

pepper
Dressing Ingredients
lemon juice

olive oil

garlic salt
Directions
Place foil in a baking dish with beets. Lightly coat beets with olive oil, salt,and pepper. Wrap  beets in foil to form a packet. Bake the beets at 350 degrees until fork tender (approx 40 minutes). I use my toaster oven.  Let beets cool until warm. To remove skin, use a paper towel and simply rub off the skin- quick and easy! Slice beets and chill in refrigeration until ready to assemble salad.
Toss arugula, chilled beets, dressing, and blue cheese. Top with candied walnuts/pecans if desired.
Dressing: 2 parts lemon juice to 1 part olive oil. Season with garlic salt.
I could eat this salad every day! Thanks Steffy, for the great recipe.
See you at the farmer's market!
Remember the e-book of
The Merkabah Recruit
is FREE for AmazonPrime members
and only $2.99 on Kindle
Don't have a Kindle?
You can download a FREE Kindle app for iPad, iPhone, Android, Blackberry or MAC.