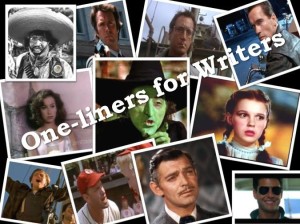 Iconic movie lines. Everybody knows them. We all quote them. And as writer's we understand the value of a great one-liner. Famous movie lines also come in handy during  the course of a  writer's day.
Here's a few of my favorites, served with a side of snarky-sassy commentary.
"

Frankly, my dear, I don't give a damn." ( Gone With The Wind )
All purpose response to anything that stops you from writing, be it a discouraging remark from a 'friend' to a disheartening blog post about the realities of publishing.
"
Toto
, I've got a feeling we're not in Kansas anymore." ( Wizard of Oz )
A sentiment expressed by many wanna-be authors after listening to an agent panel discuss the publishing biz.
"

Go ahead, make my day." ( Dirty Harry )
Feeling ( on the QT ) when you've discovered you have a troller blowing up your twitter feed.
"

May the Force be with you." ( Star Wars )
My wish to newbies heading to their first pitch session.
"I'm as mad as hell, and I'm not going to take this anymore!" ( Network )
Shout directed to a paragraph or sentence that refuses to be written correctly.
"You can't handle the truth!" ( A Few Good Men )
I might be wrong about this, but I think literary agents would like to say this to Does-My-Novel-Suck inquiring newbies.
"There's no crying in baseball!" ( A League of Their Own )
Good to say to the mirror after receiving a rejection.
"You're gonna need a bigger boat." ( Jaws )
Response to folks who ask if their Once In A Blue Moon blog will build their writer platform.
"

Hasta la vista, baby." ( Terminator )
Best spoken after hitting the SEND button on your unsolicited emailed query.
"

I'll be back." ( Terminator )
Directed at manuscript at the end of the day.
"

Badges?  We don't need no badges! I don't have to show you any stinking badges

." (

The Treasure of the Sierra Madre 

)
Perfect reply when your writer's conference name tag is left in the hotel room and you need to get into the auditorium to hear the keynote speaker.
"Houston, we have a problem." ( Apollo 13 )
Good for anytime you're trying to figure out a new writing program or new social media platform.
"I feel the need—the need for speed!" ( Top Gun )
Thoughts of many a writer trying to juggle all their social media accounts.
"Snap out of it!" ( Moonstruck )
Spoken by family or friends when a writer is in the zone.
"I'll get you, my pretty, and your little dog too!" ( The Wizard of Oz )
Addressed to the adverbs still hiding in your manuscript.
"Nobody puts Baby in a corner." ( Dirty Dancing )
Expressed after scheduling a free ebook giveaway.
"I'm the king of the world!" ( Titanic )
Spoken upon landing an agent and/or publishing deal.
What favorite movie line do YOU use?
Related Links: Readin' & Writin'