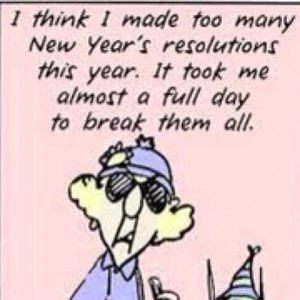 Yeah right, like I keep all my resolutions!
Oh well, here's The List AND the reasons I probably won't be able to keep them. (I'm not pessimistic,simply realistic)
1. Get in shape/lose weight. This is a biggie and has been a permanent resident on my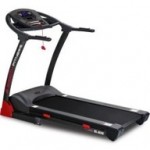 resolution list since I had children. It requires several never-gonna-happen events: stop cooking for my family, waking up earlier ( 5 am is early enough, thank you) and giving up something ( day job-mmmm), writing ( never), and sleeping 7 hrs a day. 
2. Buy fewer shoes. As every fashionista knows, if you don't have the right shoe, the whole outfit is just ruined! OK, let's see if I can modify this one…
3. Buy only shoes that are comfortable.  I love high heels, relish a bad-ass shoe, but I also need functionality–the two don't usually go hand in hand.
4. Laugh at all Hubby's bad jokes. I could probably pull this one off–maybe…
5. Try to watch at least one football game with Hubby. If I read a novel or edit my own while watching will it still count?
6. Clean and organize the garage. This one I look forward to-I could just order a giant dumpster and haul EVERYTHING (almost) into it. However,  this will result in a major brouhaha with Hubby.
7. Check outlet malls before paying retail. In my neck of the woods there are 3 stores. Neiman Marcus' Last Call, Saks Fifth Avenue's Off Fifth, and Nordstroms' The Rack.  I dunno..that's a lot of lookie-lu  time  for a busy author.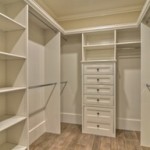 8. Organize closet. I just hate to discard something I KNOW I'll get into if I lose 5 lbs.
9. Be less sarcastic.I think it's a genetic thing; fighting DNA is sooo impossible.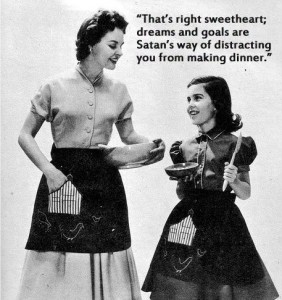 10. Tell family I love them more often. I think "Take out the trash" really reflects the same sentiment, don't you?  Also, nothin' says "I love you" better than making the dinner for the familia.
What are your New Year's Resolutions?
And which ones do you know you'll never keep?
 Click  Amazon link to novels.