"Honey, did you forget about that Halloween party we're invited to?"
"Noooooo. Not tonight. I'm on a writing role. Can't stop now."
"Your friends miss you. You need a break. And you have that crazy look in your eyes again."
Mmmm…you think. My friends buy all my books, I really should go.
"What am I gonna wear?"
Writers with day jobs tend to devote almost every non-working hour to writing, which leaves little time to plan and create a costume.
Here's a few no-frills, no-fuss ( mostly ) ideas:
1. Lady Macbeth: Wear a long white nightgown, rub red dye on your hands. Added bonus: no need to change for bed after the party.
2. Bestselling novel: This one is easy. Stop at Home Depot or Lowes  before party. Staple to t-shirt.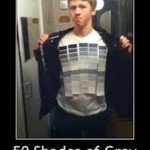 3.  Jackie Collins: Tease your hair, wear black eyeliner and lots of flashy costume jewelry. High heels a must.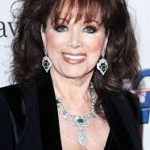 4. Professor: Dig out your graduation gown. Better still if you put on the Masters or Doctoral hood.
5. Plato or favorite Greek philosopher: Wrap a sheet around your body toga style. Wear sandals. Added bonus: Fall in bed after party, no disrobing necessary.
6. Muse: Wear a sheet toga style and place a few flowers in your hair. Add a laurel wreath fashioned from fake ( or real )  ivy for extra Greek oomph.
7. Outlander: Don a kilt. Undies optional. Warning: Sexy men may get accosted by women.
8. Rough Draft: Use a staple to cover your clothes with pages from one of your rough drafts.
9. Revision Fairy: Roll up pages, staple to a ribbon wide enough to be tied around your waist. I took this photo from Pinterest. Type in book fairy and you'll see a few variations. ( I think I might wear this to school.)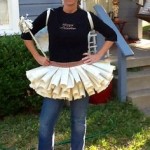 10. Ernest Hemingway: For the beard blessed, all you need is a turtleneck sweater, a cap, and a copy of Old Man and the Sea or other Hemingway classic.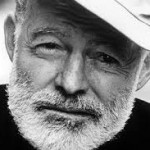 11. F. Scott Fitzgerald: Part your hair down the middle. Wear a suit and tie.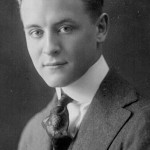 11. Recluse: Don't go to the party. Send significant other with your regrets. Recluse sounds ever so much more socially acceptable than misanthrope.
12. Sales Pitch: Dress as one of your characters. When someone asks who you are, launch into a riveting but brief teaser of your latest work.
For the more ambitious, the cleative application of make-up may be all you need. For some fun looks Baroque in Babylon has great ideas!
Hope several ideas were appealing. Now, get back to writing!
Related Posts: Readin' & Writin'