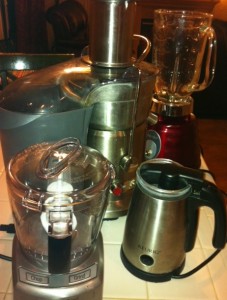 This is Hubby's name for me. He calls me Gadget Girl whenever I bring home another useful time-saving device.They are not gadgets! They are essential tools necessary for food preparation, female beatification, and household maintenance. Gadgets! Hmph! Such a disdainful and demeaning term.
I need every single apparatus.
Every. Single. One.
Almost.
Here's the list of food prep must-haves!
For making dinner before leaving for work one needs a medium crock pot.
Large family gatherings require a large crock pot.
A 2-pot crock pot-–sounds like a name of a rapper—is perfect for buffet-style family meals.
A large roaster is great for cooking a small turkey or BBQ ribs enough to feed the gang.
The George Foreman grill makes a nice panini—which my son tells me I need to make for him.
Every penny spent on the Kitchen Aid mixer was well worth it. Cupakes? Bam! Done.

Fresh pesto, salsa, or fruit purees require a mini food processor. 

By far the oldest—over 20 yrs—gadget in the pantry is the large food processor. It lasted longer than my first two marriages combined!

Smoothies and margaritas require a blender.

When the inner barista strikes, I get out the frother: Mine only works with skim milk.

Puleeze…a toaster/oven hardly qualifies as a gadget

For the one day a year when we need to carve the turkey,  I keep the electric dual action knives: The official turkey carving gadget.

Hubby's favorite gadget is the knife sharpener: It's his manly job! Grunt! He enjoys sharpening knives when my daughters bring home a new boyfriend.

A late-night internet purchase was the Yonana, a gadget that turns frozen bananas into an ice cream-like treat. Didn't use it last year. But this year for sure!

Twice a year I break out the waffle iron for breakfast.

 Once a year I drag the Pizzelle iron from the depths of the pantry to make the divine Italian cookie by the same name.

Couldn't live without the large electric fry pan.

Hubby's "immediate" family is 50-people strong. The 80-cup electric coffee maker was a "coffee-anyone?" smart investment.

When I'm too lazy to drive to Starbucks I use the Krups coffee maker.

This jet engine-sounding machine was lots of money, but worth it. You can't beat the organic-tastic taste and vitamins of veggie juice from the Juicer. I use it daily, sometimes twice a day.

Folks living in SoCal need an orange juicer.We need to do something with all the lemons, grapefruits, and oranges in the backyard.

This gadget is so old, they don't even make that color plastic anymore, but I hold on to the hand held mixer for the memories.

Once upon a time, I ground coffee beans, now the coffee bean grinder is used to grind nuts.
 I got rid of the ice cream maker and bread machine years ago.
Is that a lot of stuff? Or do I need to open a restaurant?
 Household maintenance
The steamer is required for curtains and delicate fabrics.

Everyone in the house uses the Dustbuster—even Hubby.

( a vacuum is not a gadget)
After all that time spent in the kitchen a gal needs to use her beauty gadgets!  There's the essential can't-do-without blow dryer, as well as the waving iron, 2 flat irons—I can never find the perfect one, but I'll save that for another post–¼ inch curling iron, ½ inch curling iron,1 inch curling iron, 2 inch curling iron, 2 sets of steam rollers, and the Clarisonic brush. ( I have 2 daughters—don't judge.)
I don't know what happened to the crimper and I gave away the foot massager.
Do I have too many gadgets?
What's your favorite gadget?
Which ones do you keep around for no good reason at all?
Related Posts: Mom Musings