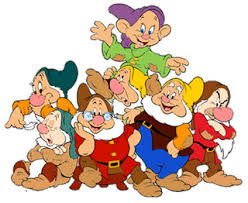 Nothing feels better than words flying from brain to fingers to page! Bliss, yes?
But it doesn't always work that way. Sometimes for optimum writing flow we need the help of all the seven inspiration dwarfs…because, you know, " hi ho , ho ho, it's off to writing work"  they go!
Doc: Prescribes practical advice and suggestions. He knows every writing ill has a remedy; every plotting problem has a cure. He's confident a dose of rewrites or edits is a manuscript's salve.
Bashful: Offers a bit of hesitant pondering. He realizes some plot twists must be mulled over and planned out before they can be properly executed.
Sleepy: Indulges our need for a good night's sleep, a quick nap, or a few moments of reverie. This frees our mind to dream and create and imagine.
Happy: Bestows the you-can-do-it and positive attitude necessary for every writer.
Dopey: Sure, he's not too smart, but he caters to our don't-tell-me-the-odds of writing/querying/publishing. Sometimes it's best not knowing what you're getting into before starting. Ignorance can be bliss.
Sneezy: Allergic to sloppy syntax writing, ho-hum dialog,and banal plotting, he's also immune to hypersensitive excuses.
Grumpy: Toughest inspiration dwarf of them all. Part critic, part realist, part churlish task-master, he doesn't hold back when pointing out a manuscript's weaknesses. And that's why he's so irritable! He knows you are capable of better!
Which inspiration dwarf do you need to get back into the writing flow?
Related Links: Readin' & Writin', Rock Your Writing