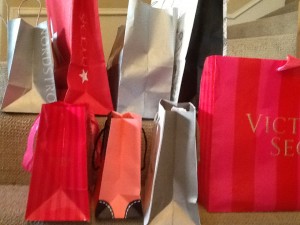 Black Friday? No thanks.
It's frightening! The crazed mobs—people hell-bent on getting the absolutely lowest price ever ever…ever.
Many fine, sane people make Black Friday a family tradition. And they even have a system honed from years of service to the Black Friday gods.
They calculate their approach.
Organize flyers and coupons.
Deploy funds months in advance
Arise before dawn.
Suit up for action, combat, speed, and comfort.
Strategize their plan of

attack

shopping.
Map out the parking lot.
Calculate the route.
Project space needed in car trunk.
Enlist volunteers.
And they're off!
They have Black Friday on the Internet, you know. It's safe and there's no worry about flash mobs or aisle insanity or vigilante bargain hunters.
Here's a few reasons why I stay as far away from the malls on Black Friday as possible.
Still recovering from chopping, slicing, cooking, serving, cleaning up from the day before.
My grown children want cash or gift cards—preferably with a few zeroes at the end.
My children send me links to any desired item.
Crowds are scary.
The parking lots are terrifying.
I

hate hate hate

 really dislike waiting in lines.
Quick story: My daughter, who is employed at a big name store in the local outlet mall, worked her first Black Friday last year. She was a bit nervous, especially after hearing all the horror stories of shoppers gone wild. "Oh well," she said brightly, "At least the day will go by fast."
After dragging her weary self in the door eight hours later, she flopped on the couch. "My face hurts! I can't smile anymore. It was awful!"
"What happened?"
"The district manager made me stand at the front door all day and repeat the same thing over and over. 'Happy Holidays. Everything is buy one, get one half off. Thank you for shopping at XXXX.' A billion times! And I had to be super happy every time I said it!"
No doubt.
So, Best Wishes all you fearless Black Friday shoppers.
I applaud your

bravery

and

spunk

and

fortitude

.
God Bless and may the shopping Force be with you.
And to those who are working the other side of the registers on that day.
Good luck!