My family LOVES chocolate cake–preferring this dessert over anything else. As a busy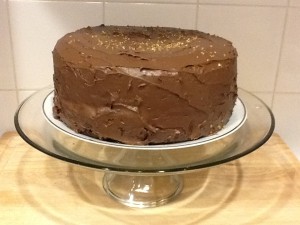 teacher-author I like recipes that are FAST. The credit for this cake goes to my 1st ex ( don't ask) who experimented with baking many years ago.
Super easy! This recipe–it's cheating to call it a recipe–makes decadent, moist, rich, tastes-like-homemade chocolate cake. It's good by itself, dusted with powdered sugar, or frosted.
Cheatin' Chocolate Cake
1 box of chocolate cake mix

1 box of brownie mix

follow directions for both mixes
Mix both together in one bowl. Grease and flour pans. Two 9-inch or 1 bundt ( if not making layers).
 Bake at 350 degrees for 40 minutes. Don't over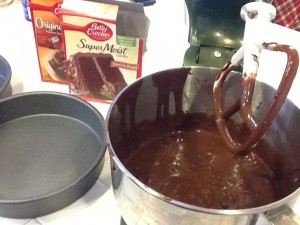 bake–that's the kiss of death for baked goods. After 35 minutes, I do the knife test. The second it comes out clean, the cake is done. Carefully invert cake and cool on cooling rack.
For special occasions, refrigerate cake after it has cooled. Slice cold cake with additional layers using a string.  A 4-layer cake is very impressive looking.
For  an "adult" flavored cake, puncture cake with a fork and pour in coconut milk or rum or Kahlua ( 1/4 to 1/2 cup or to to taste)
Yummy fillings to consider: Apricot or raspberry jam
That's it! Two boxes, one cheatin' chocolate cake!
Note: I call it Cheatin' Chocolate cake because it's not from scratch.
My favorite fast frosting recipe is courtesy of the wonderful book 101 Gourmet Cupcakes
Chocolate Buttercream
8 Tbsp ( I stick) butter at room temp

1/3 cup cocoa

3  and 3/4  cup powdered sugar

3-4 Tbsp milk or cream

2 Tbsp vanilla extract

Beat butter until smooth and fluffy. A least 30 seconds.Add in remaining ingredients. Mix well. Add milk one tablespoon at a time.  I find the more I whip, the lighter it becomes.