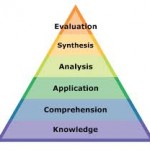 Any teacher knows Bloom's Taxonomy.  For those not in the teacher loop it's how educational psychologist Benjamin Bloom classified the levels of thinking. Teachers use the classifications to foster and inspire students' higher-level thinking skills.
Writers can use the same taxonomy to help improve their writing skills.
Knowledge, at the base, is the most fundamental. ( Imagine trying to solve a calculus problem without knowing how to add, subtract, divide, or multiply.)
Knowledge is knowing the writing basics.  Recalling:
grammar

story structure

punctuation

authorial techniques like metaphor, symbol, allusion, characterization, structure, imagery, form, motif, dialog, point of view, theme, and tone
Understanding: More than just recall is required. Comprehending the nuances and effects of the basics guides the writer to creating a better, tighter manuscript.
Writers need to understand how:
syntax manipulates a reader.

syntax impacts the author's tone and mood.

syntax speeds up, slows down, and emphasizes.

story structure is more than just exposition, rising action, climax, falling action, and resolution.

punctuation impacts mood and slows down, speeds, up, and emphasizes.

authorial techniques and literary devices add depth, flavor, and nuance.

the hero's/protagonist's weakness; his desire; antagonist's/enemy's desire; the quest/plan; battle/crisis; self-revelation; and resolution/new normal are used for maximum impact.
Application: Utilizing what you understand to weave, manipulate, and design plot and characters. This is where each writer's process is different. It doesn't matter if you don't write chapter 2 until chapter 1 is perfect or if you rewrite a hundred times. It's implementing what you know that is important.
Analysis: Read and study trends and genres in the industry. What do agents/publishers want and expect of your genre? What do readers of your genre crave? Scrutinize industry standards to determine if your novel meets the mark.
Synthesis: Craft your manuscript so it meets those standards. Modify with revisions. Imagine new combinations. Predict the problems an agent/editor/reader might find. Deduce why novel X made it big.
Evaluation: The toughest level by far and the one some writers are ill-equipped for because their knowledge and understanding base is lacking. This is where pride and ego keep the aspiring writer down. This is where a thorough assessing and judging of craft and the publishing world determine your expectations, aspirations, fears, and insecurities. Writers should:
judge their manuscript against the current biggies.
evaluate how, where, and why the manuscript might need work.
solve manuscript weaknesses. Do you need a content editor? Do you need a grammar punctuation editor? Do you know how to assess whether the folks claiming to have those skills actually have credibility?
evaluate well-meaning fellow writers' comments when they claim your writing is amazing. Would you take from-scratch baking advice from someone who only makes cakes from a box?
Where do YOU fall on the Writer's Taxonomy?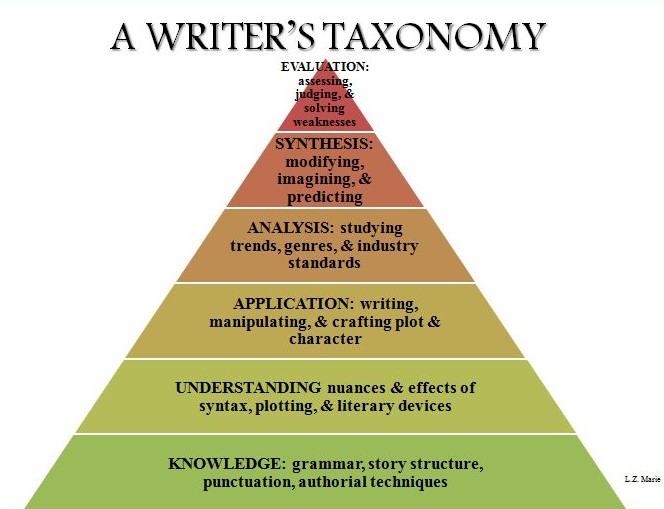 Related Links: Readin' & Writin', Symbols & more Symbols, Rock Your Writing