Need some murder, monsters, and mayhem with your romance?
Grab a latte! Get comfy!  And get ready for some supernatural sass!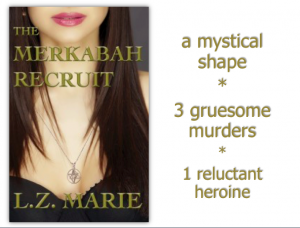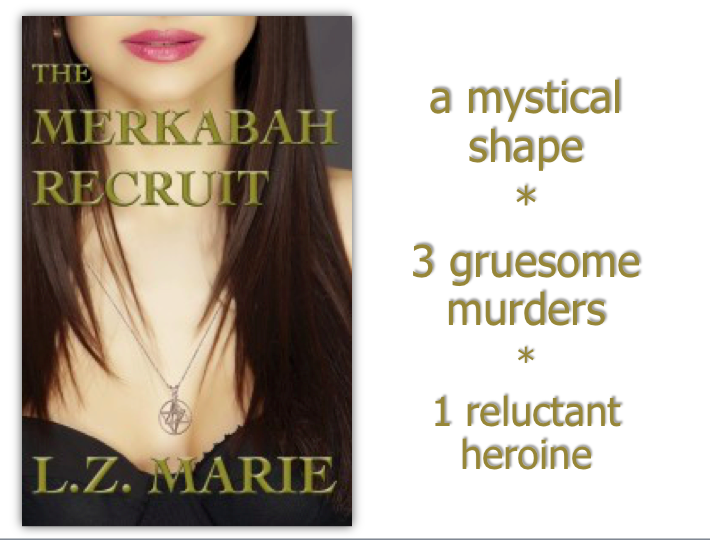 THE MERKABAH RECRUIT (Book 1)
A fresh kill. An ancient evil. And the only person capable of preventing the next murder is an unwitting and anxiety-prone recruit. Divorced, depressed, and dissertation-less, Daphne Sites is stunned to learn that a unique empathic ability allows her to identify otherworldly life. So when a mystical  organization asks for her help, it's difficult to refuse.
 Serik Jalani is the man who must convince the reluctant recruit to assume an awesome mantle of responsibility. There's only one way to do this. Reel her in slowly.
Except Daphne suspects Serik is not being entirely truthful. About the organization. About the mission. About his identity.
 As Daphne ties to keep her new life secret from two sassy sisters, one jealous ex-husband, and her Bimbo-Barbie neighbor, she struggles to embrace the mysteries of a cosmic technology.
But before Daphne can stop the murderer she must first confront her biggest problem. Herself.
At a time when recent theories like Quantum physics confirm the existence of the fantastical, The Merkabah Recruit flirts with the links between treasured legend and scientific possibility. A story that blurs the shadowy line between myth and fact.
The 1st in the 4-part series.
Myth, history, and science collide in this sassy paranormal suspense.
___________________________________________________________________________________________________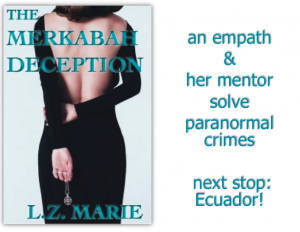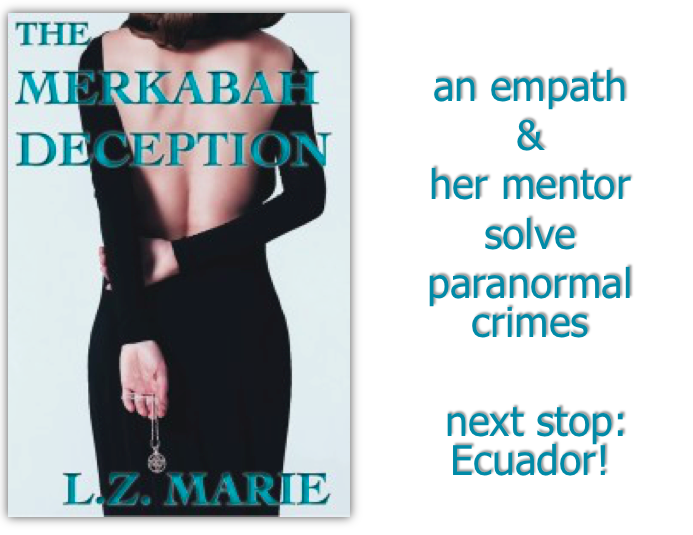 THE MERKABAH DECEPTION ( Book 2 )
An insidious evil is threatening to escape into our world and only an empathic professor can stop it.
Distraught by the frequent psychotic episodes and convulsions spreading through the students at a prestigious prep school, the headmistress seeks help from an occult society. Daphne Sites, the newest member, must determine if the mass hysteria has unearthly origins. She's a bit anxious—this is only her second assignment.
Daphne soon discovers she's in way over her head after a terrifying encounter with one of the possessed students. And attacks by thugs and nonhuman enemies don't bolster her courage or confidence either!
The search for answers sends Daphne to the Amazon jungle, Ecuador's majestic cathedrals, a creepy hacienda, and a ghoul-infested catacomb. And back into the arms of a man she can never have.
Legends, lies, and lust thwart an empathic woman's attempts to stop a supernatural evil in the 2nd book of the Merkabah Series.
___________________________________________________________________________________________________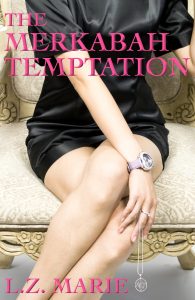 THE MERKABAH TEMPTATION (Book 3)
A dating website is leaving a trail of desiccated bodies and Daphne Sites is on the case. But following the string of clues requires working with the man who broke her heart. As if that wasn't difficult enough, Daphne must contend with a shady magician, a vicious hellhound, a sex-obsessed predator, and SJ's ancient enemy. Not to mention the other misguided beings—human and otherworldly—that keep Daphne on her empathic toes.
From the city morgue to San Francisco's Chinatown to a Napa Valley winery, Daphne suspects there's more at stake than she bargained for.
THE MERKABAH OBSESSION –  coming Fall 2019!
Daphne must go to Greece where EVERYTHING falls a part.