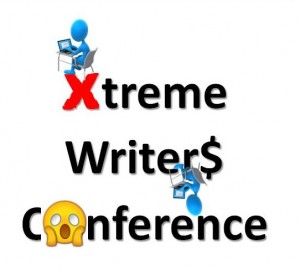 Writers conferences provide inspiring and informative sessions and keynotes. Most include social media strategies, general publishing information, writing critiques, and query letter how to's. But sometimes I wish they offered a bit more. Here's a few classes you'll never find at a writers conference.
1. Grit: Learn why a writer needs this character trait to succeed. No-nonsense strategies for  maximizing grit during the writing, querying, and publishing process will be revealed.
2. Work-Space Optimization: Organizing desk to accommodate research materials, notes, and tea/coffee while writing. Best office chairs for a bad back will be reviewed.
3. How to Stay Sane While Waiting To Hear From An Agent: Both traditional and non-traditional methods for reducing stress and anxiety will help determine your best opiate. Alcohol consumption, binge reading, yoga, and chocolate overdosing will be evaluated for effectiveness. Class does not include prescriptions for anxiety and depression.
4. Writing While Making Dinner 101: No-burn, no-fail, nutritious 10-minute-preparation recipes guaranteed to feed family while you write.
5. Best Brews For Stimulating Creative Alertness: Includes sampling French Roast, Sumatra, Kona, and other blends while discussing the impact of roast strength and brewing methods on word count.
6. Ranting & Raving 101: An open forum where writers can complain in a safe, non-recorded, and social media-free zone. (Best done after the Best Brews session.) Electronic devices are forbidden during this time. This is a popular session, sign up in advance.
7. The Future of the Adverb: An academic look at the fate of the much maligned adverb. Where will they go? What will happen to the useful -ly suffix? This is for writers who truly absolutely honestly care about adverb extinction. Save The Adverb and Save A Suffix T-shirts are available for purchase upon request.
8. The Truth About the Publishing Biz 101: From beginning your foray into novel writing to polishing the final draft, this session discloses the facts and statistics you don't want to know because you will cry. Great as a prerequisite to Ranting & Raving.
9. The Truth About the Publishing Biz 102: From query-writing to beyond, more facts and statistics guaranteed to make you shed a tear or two. Attendee responsible for their own tissues.
10. Inspiration and Why You Don't Need It:  Taught by a bad-ass drill sergeant who orders you to "sit your ass on the chair and start writing," this session whips your excuses  into shape.
11. How Not To Piss Off People on Social Media: Discover all the ways you can unintentionally insult, mock, antagonize, and belittle potential readers and your writing friends. A revealing glimpse at just how easy it is to look like a jerk/douche bag/fool.
12: Beta-reader Speak: Formerly How to Critique With Smiley Faces: How to word criticisms about a novel in author-friendly terms. Phrases like "Your MC's motivations might need some shoring up" and "This is an amazing concept"  and  "A good editor will perfect your final draft" and other niceties will keep you on speaking terms with other authors.
13: How To Laugh In The Face Of Rejection: A follow-up to the Grit seminar, a powerful class offering tips to increase grit while maintaining a positive outlook. Free hits of nitrous oxide ( laughing gas ) will assist in promoting the proper attitude.
14. How Not To Engage: A rigorous class designed for those writers unable to stop themselves from responding to a social media post or negative comment. Real-time dis-engagement strategies will be taught and practiced.
15. Selfie Stick Symposium: Tips and tricks for finding your best pose, background problems, plus benefits and pitfalls of  usage. Please bring your own selfie stick.
What class would you like to see offered at a conference?
Related Links: Readin' & Writin'; Rock Your Writing