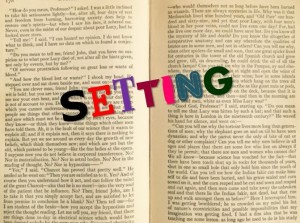 Setting is more than just location!
Usually when folks think of setting in the literary sense they think physical location. But setting is much more than that. Authors construct setting like they do characters and plot.
Setting is a powerful element for establishing themes and often  reflect the author's own background, biases, and perspectives.
Setting can influence, shape, and emphasize a character's actions and ideas. Setting can drive plot, create mood, or assume the role of antagonist..
Setting can reflect the following milieus:
political

time ( minutes, hours, days, years )

historical

financial

socio-economic

cultural

religious

dystopian/utopian

magical

mythical

surreal

constructed/ alternate /parallel/imaginary

dream ( think Inception )

virtual ( think Tron )

psychological

attitudinal

industrial

seasonal
Setting can also refer to:
a physical place ( country, state, town, street, house )

temperature

geography ( desert, jungle )
How are you using setting?
 Related links: Rock Your Writing