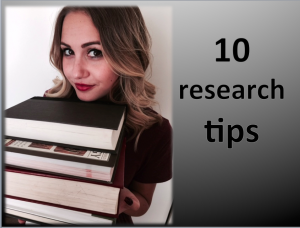 Many writers do a fair amount of research for their novels. Whether your genre is mystery, action-adventure, sci-fi, historical, urban fantasy, crime, or horror—writers are forever looking up facts to mix with the fiction.
Authors can spend at least a month researching a time period before beginning a new historical, and just as many weeks researching odd subject matter for other genres.
Lucky me, writing a million ( a small exaggeration )  college essays and a masters thesis taught me how to best catalogue and manage the plethora of research gathered along the way. I teach these same tips—learned the hard way—to my students.