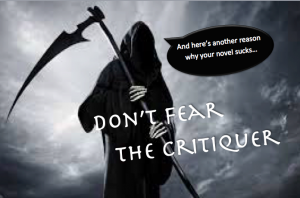 Despite what you may think, the folks critiquing your manuscript are not the sickle-wielding grim reaper come to bury your manuscript, although for the uninitiated it can be Hell.
I paid—yes, paid—for critiques from industry professionals at writers conferences and also paid a professional writer for a manuscript critique/editorial report. Those critiques were worth every penny…er…dollar. Of course, there are lots of writers groups willing to do it for free. Just make sure those critiquing have cred, and by that I mean they have had a traditionally published novel or are in the industry ( agent, editor ). Suzy Sunshine's gushing over your manuscript won't be helpful in the long run.
Critiques, especially for the novice, are invaluable! However, you have to put on your big boy pants and be willing to take advice and learn from your mistakes. Easier said than done!